RESEARCH
If we knew what it was we were doing, it would not be called research, would it?
---
Advancing semantic technologies through study, collaboration and research is our passion.
---
Projects
Besides our solid theoretical knowledge, we use our practical skills to continuously carry out research projects. In turn, projects are an inexhaustible source of new research challenges and inspire our creativity every day.
---
Software Tools

The results of our research consist not only in scientific publications and research projects but also in software tools. The latter are valuable assets both for our team and for the scientific community to which they are made available.
These are a few of our research areas
---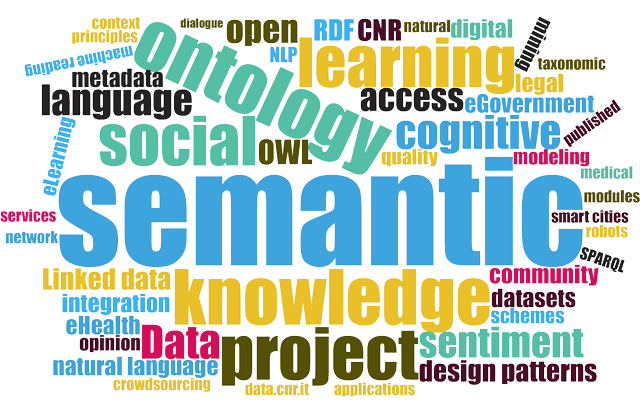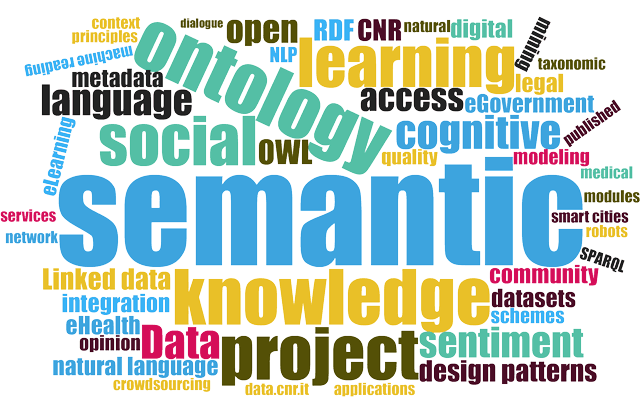 Publications
[41]

Agile Knowledge Graph Testing with TESTaLOD,

Carriero VA

,

Mariani F

,

Nuzzolese AG

,

Pasqual V

,

Presutti V

, In

Proceedings of the ISWC 2019 Satellite Tracks (Posters & Demonstrations, Industry, and Outrageous Ideas) co-located with 18th International Semantic Web Conference (ISWC 2019), Auckland, New Zealand, October 26-30, 2019

,

2019

.
[42]

SQuAP-Ont: an Ontology of Software Quality Relational Factors from Financial Systems,

Ciancarini P

,

Nuzzolese AG

,

Presutti V

,

Russo D

, In

CoRR

, volume abs/1909.01602,

2019

.
[43]

Frame-Based Detection of Figurative Language in Tweets [Application Notes],

Recupero DR

,

Alam M

,

Buscaldi D

,

Grezka A

,

Tavazoee F

, In

IEEE Comput. Intell. Mag.

, volume 14,

2019

.
[44]

Can Knowledge Graphs and Deep Learning Approaches help in Representing, Detecting and Interpreting Metaphors?,

Alam M

, In

Proceedings of the Workshop on Deep Learning for Knowledge Graphs (DL4KG2019) Co-located with the 16th Extended Semantic Web Conference 2019 (ESWC 2019), Portoroz, Slovenia, June 2, 2019

,

2019

.
[45]

A Survey on Knowledge Graph Embeddings with Literals: Which model links better Literal-ly?,

Gesese GA

,

Biswas R

,

Alam M

,

Sack H

, In

CoRR

, volume abs/1910.12507,

2019

.
[46]

[47]

A Proposal for a Two-Way Journey on Validating Locations in Unstructured and Structured Data,

Keles I

,

Qawasmeh O

,

Tietz T

,

Marinucci L

,

Reda R

,

Erp Mvan

, In

2nd Conference on Language, Data and Knowledge, LDK 2019, May 20-23, 2019, Leipzig, Germany

,

2019

.
[48]

Data Science for Healthcare - Methodologies and Applications,

Hammar K

,

Presutti V

, In

Advances in Ontology Design and Patterns [revised and extended versions of the papers presented at the 7th edition of the Workshop on Ontology and Semantic Web Patterns, WOP@ISWC 2016, Kobe, Japan, 18th October 2016]

(Consoli S, Recupero DR, Petkovic M, eds.),

Springer

,

2019

.
[49]

Dal Digital Cultural Heritage alla Digital Culture. Evoluzioni nelle Digital Humanities,

Barbuti N

,

Marinucci L

, In

Digital Humanities 2018, DH 2018, Book of Abstracts, El Colegio de México, UNAM, and RedHD, Mexico City, Mexico, June 26-29, 2018

,

2018

.
[50]

Semantic Role Labeling for Knowledge Graph Extraction from Text,

Alam M

,

Gangemi A

,

Presutti V

,

Recupero DR

, In

CoRR

, volume abs/1811.01409,

2018

.
Research
Updated on 2020-03-05T11:03:59+00:00, by admin.