Valentina Presutti
Coordinator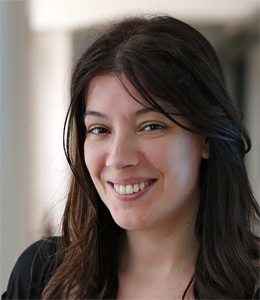 STLabers say about her
Valentina is the soul of the laboratory, a force of nature, a volcano of ideas!
She is an excellent researcher, passionate and innovative; she finds a solution for every problem.
She is very determined and resolute but she is always open to confrontation.
Valentina Presutti is a Senior Assistant Professor at University of Bologna. She is also an Associate Researcher at the Institute of Cognitive Science and Technologies of CNR and coordinator of STLab. She received her Ph.D in Computer Science at University of Bologna (2006). Her research interests include AI, Semantic Web and Linked Data, Knowledge Extraction, Empirical Semantics, Social Robotics, Ontology and Knowledge Engineering. She coordinates the EUH2020 project Polifonia (2021-2024). She was responsible for several national and EU projects (e.g. MARIO, IKS, ArCo). During her post-doc she worked in NeOn and created ontologydesignpatterns.org and the series WOP, reference resources for semantic web researchers. She has +150 articles in international journals/conferences/workshops. She is editorial board member of J. of Web Semantics (Elsevier), Data Intelligence (MIT Press), JASIST (Wiley), Intelligenza Artificiale (IOS Press), and of "Semantic Web Studies" (IOS Press). She is co-director of International Semantic Web Research Summer School (ISWS) and has served in organisational and scientific roles for several events.
Publications
[131]

WikiFactory: An Ontology-Based Application for Creating Domain-Oriented Wikis,

Iorio AD

,

Presutti V

,

Vitali F

, In

The Semantic Web: Research and Applications, 3rd European Semantic Web Conference, ESWC 2006, Budva, Montenegro, June 11-14, 2006, Proceedings

,

2006

.
[132]

Automatic Deployment of Semantic Wikis: a Prototype,

Iorio AD

,

Fabbri M

,

Presutti V

,

Vitali F

, In

SemWiki2006, First Workshop on Semantic Wikis - From Wiki to Semantics, Proceedings, co-located with the ESWC2006, Budva, Montenegro, June 12, 2006

,

2006

.
[133]

Towards an OWL Ontology for Identity on the Web,

Gangemi A

,

Presutti V

, In

SWAP 2006 - Semantic Web Applications and Perspectives, Proceedings of the 3rd Italian Semantic Web Workshop, Scuola Normale Superiore, Pisa, Italy, 18-20 December, 2006

,

2006

.
[134]

An OWL-S based approach to express grid services coordination,

Bocchi L

,

Ciancarini P

,

Moretti R

,

Presutti V

,

Rossi D

, In

Proceedings of the 2005 ACM Symposium on Applied Computing (SAC), Santa Fe, New Mexico, USA, March 13-17, 2005

,

2005

.
[135]

Towards the definition of guidelines for RDF and Topic Maps interoperability,

Presutti V

,

Garshol LM

,

Vitali F

,

Pepper S

,

Gessa N

, In

Proceedings of the 5th International Workshop on Knowledge Markup and Semantic Annotation ( SemAnnot 2005 ) located at the 4rd International Semantic Web Conference ISWC 2005, 7th November 2005, Galway, Ireland

,

2005

.
[136]

Correct Components Assembly for a Product Data Management Cooperative System,

Tivoli M

,

Inverardi P

,

Presutti V

,

Forghieri A

,

Sebastianis M

, In

Component-Based Software Engineering, 7th International Symposium, CBSE 2004, Edinburgh, UK, May 24-25, 2004, Proceedings

,

2004

.
[137]

Metadata on the Web: On the integration of RDF and Topic Maps,

Ciancarini P

,

Gentilucci R

,

Pirruccio M

,

Presutti V

,

Vitali F

, In

Proceedings of the Extreme Markup Languages\textregistered 2003 Conference, 4-8 August 2003, Montréal, Quebec, Canada

,

2003

.
[138]

An Ontology Driven Design Method for inter-Agent Communication,

Ciancarini P

,

Presutti V

,

Abeti L

, In

Proceedings of the Fifteenth International Conference on Software Engineering & Knowledge Engineering (SEKE'2003), Hotel Sofitel, San Francisco Bay, CA, USA, July 1-3, 2003

,

2003

.
[139]

Towards Ontology Driven Software Design,

Ciancarini P

,

Presutti V

, In

Radical Innovations of Software and Systems Engineering in the Future, 9th International Workshop, RISSEF 2002, Venice, Italy, October 7-11, 2002, Revised Papers

,

2002

.
Projects